Perhaps one of my favorite testimonies of the Atonement
and the Sacrament is from the recently returned
and newly engaged Elder Backus (my nephew).
I have made it part of my sacrament preparation each week.
On this Good Friday, it seems appropriate to share.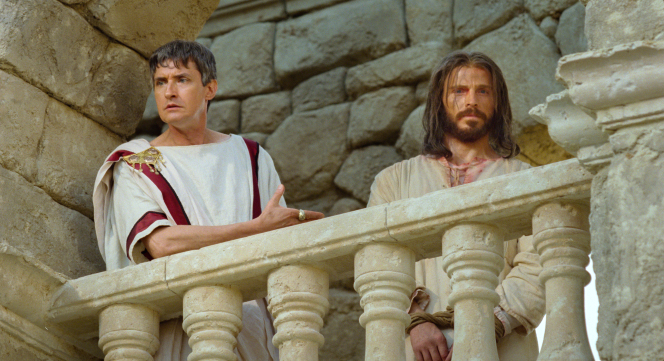 Like many of us, he had been struggling to find spiritual renewal in sacrament meeting amidst all of the distractions that can come in ward meetings. As a missionary, he had lots of concerns about how to overcome those distractions that were out of his control, and truly feel the peace that should come from taking the sacrament. In his personal studies he came to a powerful conclusion:
"In the 27th chapter of Matthew, we read of two Jewish prisoners. The first, Barabbas, was guilty of sedition and murder, clear and severe offenses to the Jewish law. Under that same law, Barrabas' fate was set; he was to be put to death. The second prisoner, Jesus, had been accused of high treason, but after examination by both Herod Antipas and Pontius Pilate, had been found innocent of such a charge.
During the Feast of the Passover, it was customary for the governor, Pilate, to release one prisoner according to his wish. After comparing the two candidates, the answer was simple; Jesus Christ was undoubtedly innocent and therefore should be released. Beginning in verse 20, however, it says, "But the chief priests and elders persuaded the multitude that they should ask Barabbas, and destroy Jesus. Pilate, they all said unto him, let him be crucified. And the governor said "why, what evil hath he done? But they cried out the more saying, let him be crucified. Then released he Barrabas unto them and when he had scourged Jesus, he delivered him to be crucified. Against all justice and logic, the guilty prisoner was set free and the innocent son of God was sent to die.
Amidst the noise of squirmy toddlers, cell phone distractions and perhaps even wandering thoughts, this account is replayed every week of our lives in our sacrament meetings. Each one of us, through the week, fall short of keeping all of the commandments. Each Sunday we are presented at the sacrament altar as the guilty prisoner in need of punishment. But each week, the Savior offers himself, in the form of bread and water and takes our place. We humbly promise to try to do better this next week and then we, like Barrabas, are set free.
When we truly understand and look forward to the sacredness and importance of the sacrament, no matter what the circumstances are around us, we can guarantee ourselves a spiritually renewing experience at church.
May your Easter weekend be renewing and filled with the hope that comes from the Resurrection
.