I have to admit I don't get it.
But I have a daughter who loves these things.
This past weekend she worked as a host at the Salt Lake City Fantasy Con.
Another event in which you dress up like it's Halloween and then everyone takes pictures with everyone.
Hmmm. I seriously just don't get it.
But no matter.
We tease Michaela that she is going to find her one and only at a Con...
She says we are probably right.
Should that worry me?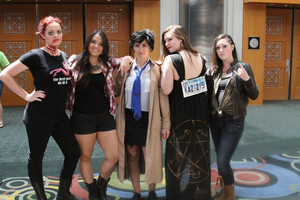 She's the one with the license plate on her back.
(See? You don't get it either...)
-photo courtesy of KSL
Anywho, reality starts tomorrow
when a job becomes the number one priority in her life.
Oh yes, it's good to be young.